How to get here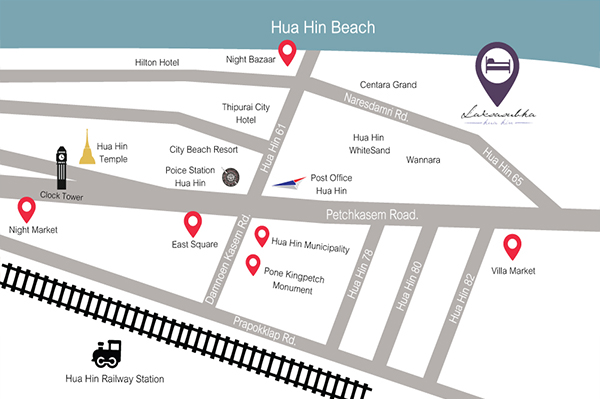 Location
Laksasubha Hua Hin Resort is a beachfront resort located on Damnernkasem Road, moments from the centre of Hua Hin and close to seafood restaurants, local markets and a vibrant nightlife.
Getting to and from Hua Hin
Hua Hin is 200 kilometres and a 2 ½ hour drive from Bangkok.
From Bangkok's Suvarnabhumi Airport, take the highway to Rama 9 Expressway and then continue to Dao Kanong Expressway until you see a sign for Samut Sakhon. Take Highway 35 to Highway 4, and continue on to Petchaburi. Take a left turn off Highway 4 to Cha-Am. Hua Hin is a further 20-minute drive beyond Cha-Am.
By Train:
Several train a day leave Bangkok for Hua Hin. Although the journey is slow, taking between four and six hours, it is a pleasant trip and a good way to see Thailand's beautiful countryside.
By Bus:
Buses between Bangkok and Hua Hin are served by Bangkok's Sai Tai Mai bus station, and depart every 20 minutes. The journey takes about 3 ½ hours journey. Minibuses also leave from Victory Monument.
By private taxi:
Travel between Bangkok and Hua Hin by private taxi costs approximately 3,000 baht and takes about 2 ½ hours.